The first thing I want to do is thank Anthony Chu and the ŠTatung Company for allowing me to use the vidcaps I have on this page. It would have been difficult to create this page without them.
On the next few pages I will try to make using the Star BoulevardŽ site a little easier to do. The parts that I will talk about are the TransloadŽ and the CamLoadŽ services and the HTML ExtractorŽ.
Star Boulevard is now divided into sections, one is free and the other is a pay site called TL2. This information below refers to the free section. The free section does have a limitation on files that can be used to 30 kb or less. There isn't any limitation on the pay site and it includes more features. Click here for a tutorial on the TL2. At the bottom of this page are links to two other transloders that for the moment haven't any size limits and are free.

First you must have an image you want to transload. When you have gone to its own page you will see it on a black background similar to this.
Now go directly to the Anthony's Star BoulevardŽ Site either by typing this address http://transload.starblvd.net/ in your "Go To" box or set up an F key shortcut for it. When you get to the page you will see somethng like this below.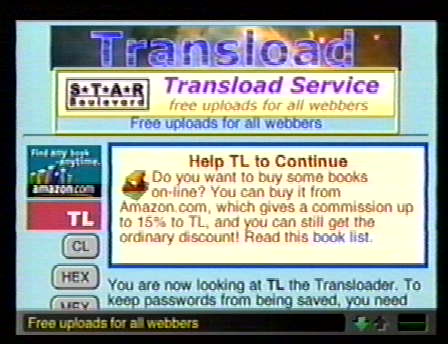 ŠTatung Co.