Now scroll down to the form that will look like this below.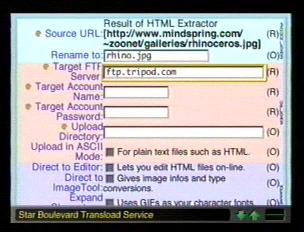 ŠTatung Co.
When you are first starting out to put images on your directory you don't need to use the "Rename To" box. You can if you want to. As you get more and more images transloaded you should use the box because anything you transload that has a name that you already have in your directory will disappear and be overridden by the new one. Be sure to include the gif,jpg or whatever else was on the original name of what you are transloading. Just like I changed the original image name rhinoceros.jpg to rhino.jpg on the form. In the "Target FTP Server" box you put your providers ftp. I happen to use Tripod and it is ftp.tripod.com. In the "Target Account Name" you put your user name of your web site. The one in your web site address. In the "Target Account Password" you put your web site password. The one you use to gain access to your web site directory. For the inputs for Geocities, Anglefire, Maxcafe and Talkcity go to Warp Speed's page. You can leave the "Upload Directory" blank or if you have subdirectories you can put the name of that subdirectory in there. Say you have one named "gifs". All that you would put there if you are using Tripod is gif, no slashes. You may have to put gifs/ with other web site providers. Now scroll down till you see something like this below and click on the "Transload" button.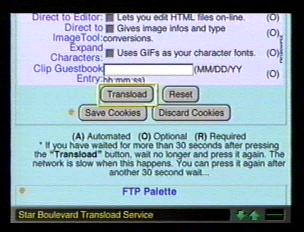 ŠTatung Co.
That will bring to a page like the one below.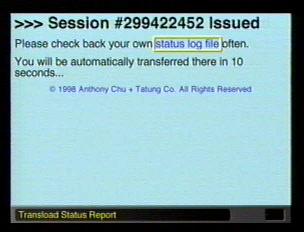 ŠTatung Co.
After 10 seconds it will bring you to the Status page like the one below. It normally doesn't pop up in it's complete form. Do wait a minute or two like it says and reload the page.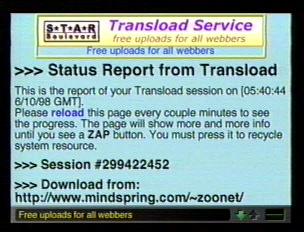 ŠTatung Co.